Basics - Lesson 6 - Asking for things Lesson
By Learn Korean Admin -
02/10/2023
<< Previous Lesson
Next Lesson >>
There Are / There is
The Korean verb which means either "there are" and "there is" is issoyo ( 있 어요 )
They are dependent on the context in which you use them, and on what you are talking about. The stem of the verb is iss- with the inclusion of o and the polite particle -yo, thus forming the ending -oyo. However in the case where the verb stem ends in vowel, we use -a or -o, such as -ayo.
| | | | |
| --- | --- | --- | --- |
| Vowel stem | - yo |   |   |
| Consonant stem | - ayo | if the last vowel ends with -a or -o |   |
| Consonant Stem | - oyo |   |   |


In context the oppposite of iss- is ops- which literally means "there isnt" or "there arent".
Uses of the verbs
chogi issoyo means "it exist over there", or "its over there"
Issoyo on its own can mean "I have/he has"
Opsoyo means "I dont have" or "I havent got"



In a shop
When addressing a shop keeper or waiters, Koreans use ajossi literally meaning uncle, but is used as a general word when addressing someone in a shop.
However if it were to be used in a formal way, it is only for the referral of a man,
For females the word ajumma meaning aunt is used, for people over 35-ish, and for younger woman agassi is used for young women.

In Korean, we use a particle which comes after a noun that it relates to, such as na-do (me-too).
In English, it is the opposite, we would say 'with-me', whereas Korean is 'me-with'.


Using 'and'
In Korean, the word for and is -hago, this is a particle so when it is to be used it must be attached to a noun. For example, when you say 'burger and chips', in Korean it would be 'burger-hago chips. The word hago becomes part of burger.
The particle hago can also mean with such as, Doojin-hago shinae-e kayo meaning 'I am going to town with Doojin'.
Ordering with numbers
When asking for 'one' item we say 'hana' which is said after you have selected the meal you wish to order. For example we would say, soju hana chuseyo meaning "soju one give me please".
The word chuseyo utilises the polite word stem -yo, attached to chu-, which means "give me please"
<< Previous Lesson
Next Lesson >>
Donate just £2 to use to help keep us FREE.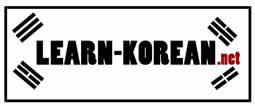 ---