Start Learning Korean for FREE online - no payment needed
Why should I learn korean?

Start learning today for FREE

Fed up of reading subtitles in Korean Dramas?
Start to Learn Korean for FREE.
Join lots of people around the world and start learning now online.
See our classes, start from our beginner, intermediate and advanced lessons.

Donate just £2 to use to help keep us FREE.
We also have our online forum with Facebook where you can talk to others and help each other.
How to use:-
- Read the class
- Study the class
- Work on the exercises
Korean language is thousands of years old, it is made up of an alphabet system like English but sounds different. It is easy to read once you have learnt the alphabet.
See our FREE Korean lessons
Popular Learn Korean Lessons
Check out some of our FREE lessons on Learn Korean.
How to learn korean?
We will teach you in gradual phases, and will also provide you with a forum, where you can ask each other, as well as our teachers for help. We will also recommend a wide variety of online language learning tools, in the event that you wish to take your learning further, and will give you guidance in order to allow you to achieve this aim. We encourage all students to learn at their own pace, since their learning is dependent on their abilities.
How to study Korean?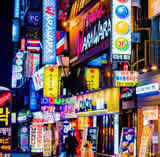 We would love to hear some feedback from you guys about classes and toppics that you would like to seen from our learning korean classes and tutorials, feel free to email us with your suggestions or leave feedbacks on our wall.

Here at Learn Korean, we are pleased to announce that we have updated our Learn Korean forums so now you can sign up and join for free. Your old passwords wont work for the new site, so you will need to set new ones up for it.
---